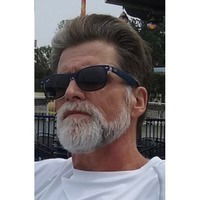 Wade D. Tolle, 55, of Meriden, formerly of Marcus and Sioux City, passed away Tuesday morning, March 17, 2020 at the Cherokee Regional Medical Center.
Wade was born on March 1, 1965 at Cherokee, to Dale & Judith (McDonald) Allen. When his mother remarried he was adopted by Lynn Tolle. He was married to Cindy Haire on June 8, 2002 in Sioux City.
Wade's last employment was at Seaboard Triumph Foods in Sioux City, Iowa and prior to that had worked for Dar Pro in Alton, and also had worked for various packing plants in northwest Iowa. He had just recently moved to Meriden, and before this had lived in Marcus for 10 years and prior to that in Sioux City, Iowa for many years.
Wade enjoyed fishing, motorcycle riding, camping. watching the Chicago Cubs and Iowa State Cyclones. He liked family gathers and loved to be waited on. He would take care of sick family members and nurse them back to health. Even though he could be rotten at times, he was a good-hearted person and he had a deep love for Jesus. He was involved with the Man kind project for youth and mentoring programs for young kids for many years. He was affiliated with the Christian Church.
He was preceded in death by his parents, his adoptive father Lynn Tolle, and a son Dylan Peterson of Sioux City in 2009.
He is survived by his longtime special friend Carla Murphy of Marcus, and her family whom Wade loved like his own: Brandy (Matt) DeBoer of Granville; Kyle Hodges (fiancé Whitney Baker) of Meriden; Malori Hill (special friend Andrew Purcell) of Marcus; Zachary Murphy (fiancé Emily Heeren) of Marcus; 11 grandchildren; his sister: Dana Tolle of Sioux City, Iowa; and his dog Judy.
Funeral arrangements are currently pending at the Boothby Funeral Home in Cherokee. Online condolences can be left at www.boothbyfuneral.com