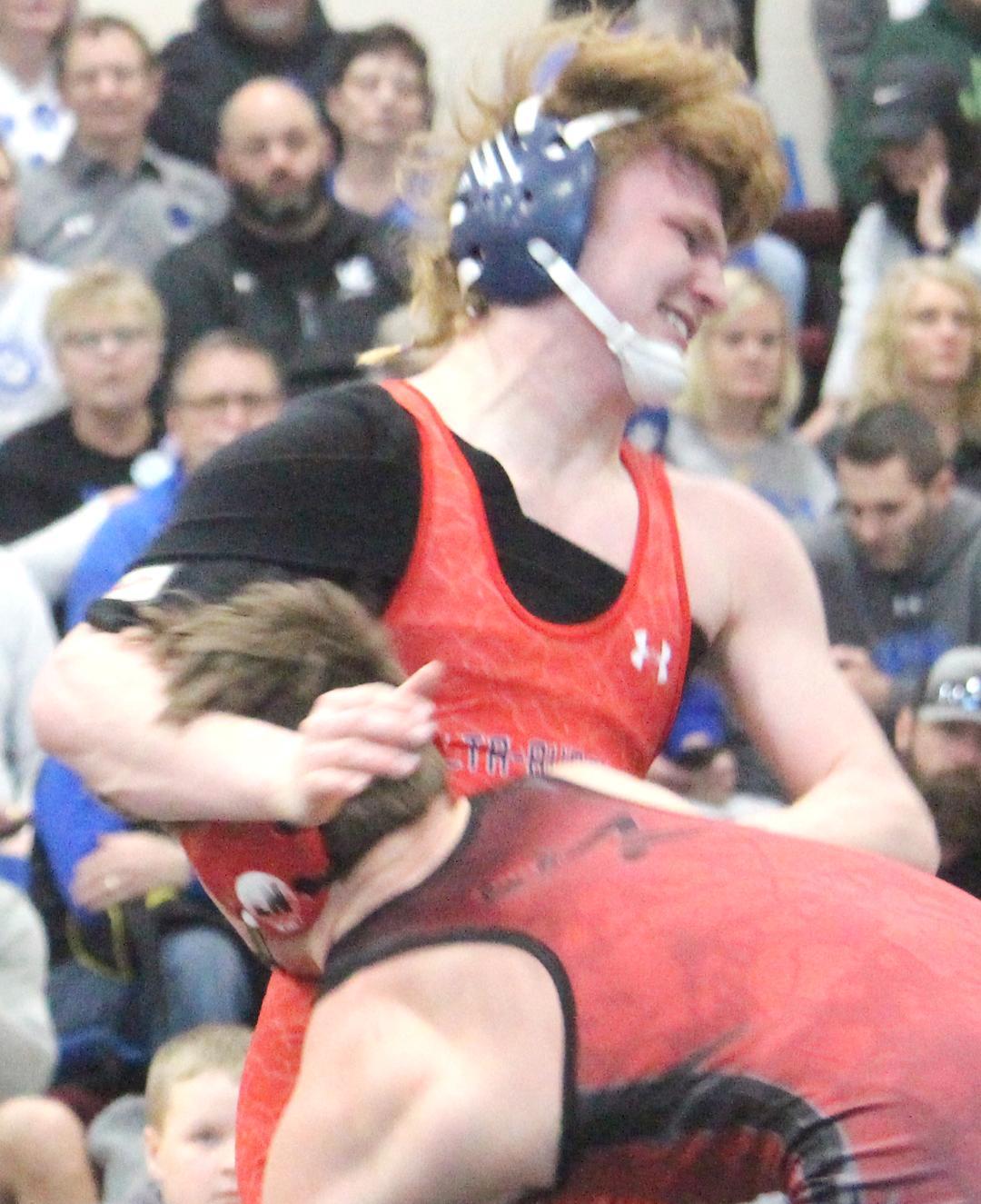 Alta-Aurelia junior Levi Sleezer looks to fight off East Sac County's Sterling Rodman during the Class 1A district meet in Mapleton on Feb. 15. Sleezer earned a hard fought 12-7 decision. (Photo by Matt Gengeler, Missouri Valley Times-News)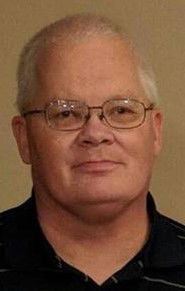 BY JEFF BENSON | Cherokee County News-Patriot Sports
MAPLETON, Iowa - The Class 1A district wrestling meet turned into a nightmare for the pair of Alta-Aurelia matmen Levi Sleezer (170) and Alex DeRoos (182) in their opportunities to qualify for the state wrestling tournament Feb. 20-22 at Wells Fargo Arena in Des Moines.
Both Warrior wrestlers were matched up with ranked opponents in their first matches, with both coming away with losses by fall.
Sleezer fell in a time of 5:14 to Tri-Center Bryson Freeburg who is ranked fifth individually.
DeRoos was beaten by MIssouri Valley's eight ranked Nick Haynes in 27 seconds.
Sleezer picked up a win in first consolation wrestleback match with a hard fought 12-7 decision over East Sac County's Sterling Rodman. In the second place match with a state berth on the line, MVAOCOU's Kolby Scott ended Sleezer's season with a win by fall over the Warrior junior in 57 seconds. Sleezer finishes the year with a 27-12 record.
DeRoos squared off with West Mona's Jackson DeWald in his second match of the day and saw his season come to an end with a heartbreaking 10-9 loss by decision. DeRoos completes his junior season with a 28-8 record.
District team champion was fifth ranked Logan-Magnolia with a team score of 111.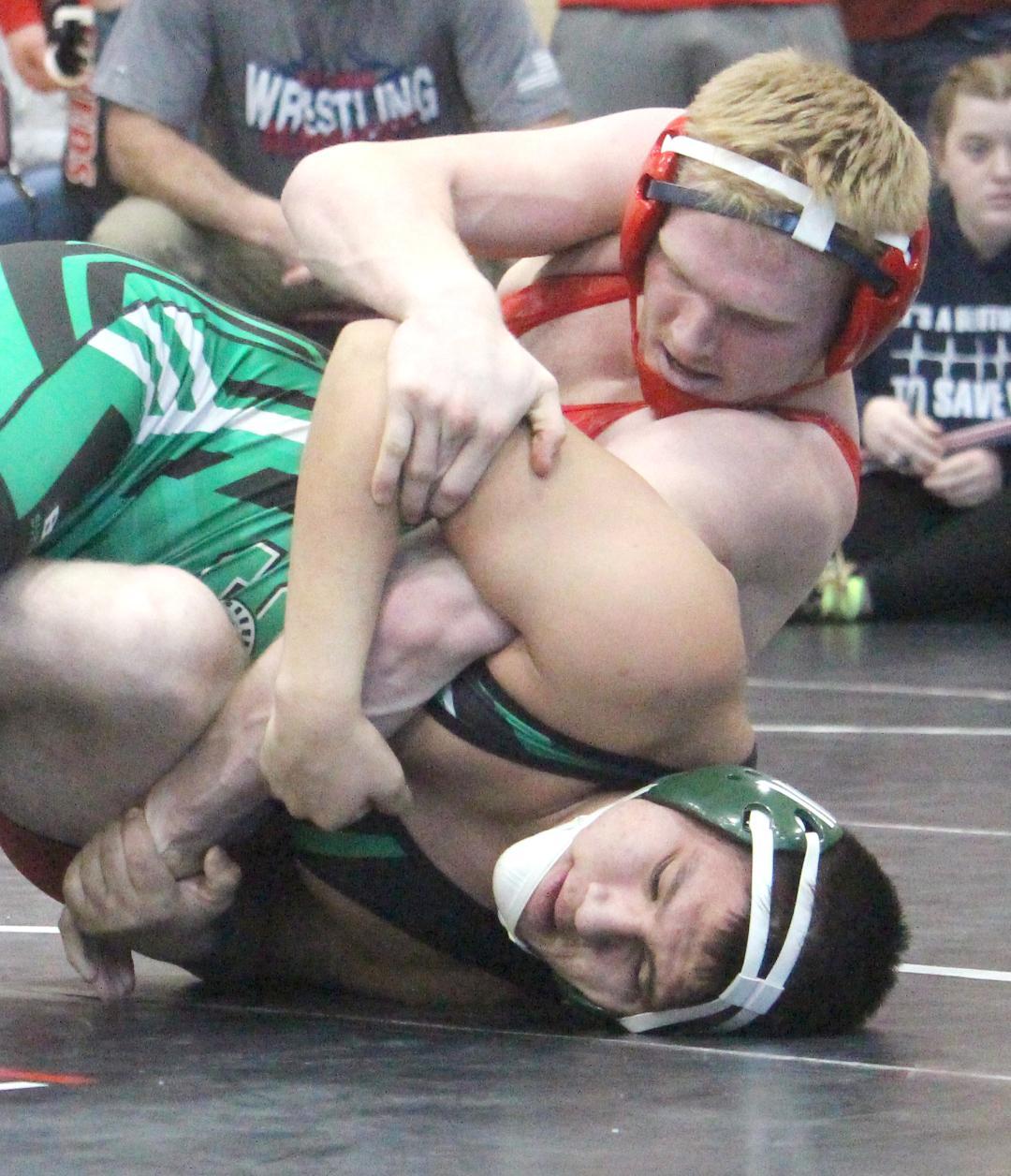 Alta-Aurelia junior Alex DeRoos attempts to free his arm lock from West Monona's Jackson DeWald during the Class 1A district meet held on Saturday (Feb. 15) in Mapleton. DeRoos saw his state biddenied with a heartbreaking loss by a 10-9 decision. (Photo by Matt Gengeler, Missouri Valley Times-News)
Individual Matches
170
Bryson Freeburg (TC) WBFall (5:14) over Levi Sleezer (AA)
Levi Sleezer (AA) Dec. 12-7 over Sterling Rodman (ESC)
Kolby Scott (MVAOCOU) WBFall (:57) over Levi Sleezer (AA)
182
Nick Haynes (MV) WBFall (:27) over Alex DeRoos (AA)
Jackson DeWald (WM) Dec. 10-9 over Alex DeRoos (AA)
1A District Final Team Scores
1. Logan-Magnolia 111.0
2. Woodbury Central - Moville 81.0
T3. Missouri Valley 67.0
T3. South Central Calhoun 67.0
5. Hinton 61.0
6. Tri-Center 38.0
7. West Monona 36.0
8. East Sac County 29.0
9. Westwood 28.0
10. MVAOCOU 16.0
11. Akron-Westfield 14.0
T12. Lawton-Bronson 10.0
T12. Woodbine 10.0
14. Alta-Aurelia 8.0