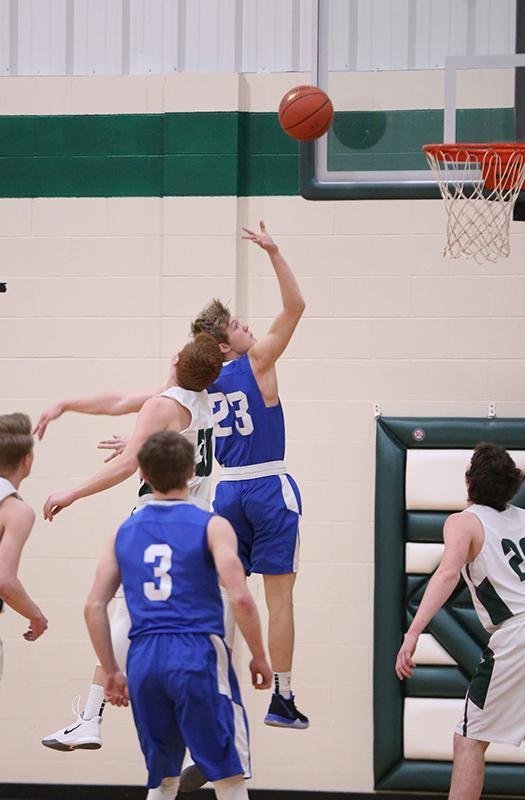 MMCRU freshman Kamden Steffen put up a shot deflected by a Trinity Christian defender in the matchup Tuesday, Jan. 21 in Hull. Steffen finished with 14 points before fouling out of the game in the fourth quarter (Roy Tucker, Tucker Photo; see more game pictures at: https://rtphoto.photoreflect.com/ )
BY JEFF BENSON | Cherokee County News-Patriot Sports
HULL, Iowa - There were five ties early in the first quarter between MMCRU and Trinity Christian boys basketball teams. Teams were tied at three, five, eight, 11 and 13, before Trinity Christian ended the quarter on a 10-0 run.
From that point forward it became a struggle for MMCRU, dropping the Twin Lakes COnference matchup, 67-47. With the loss, MMCRU concedes the regular season sweep to Trinity Christian.
The second quarter brought much the same momentum for Trinity Christian with a 12-0 run before a Preston Astidias three put a temporary stop to the bleeding. Later in the quarter one of the Royals main offensive weapons, Kamden Steffen picked up his third foul and was forced to the bench.
The first half ended with MMCRU looking up at a 14 point (39-25) deficit. The third quarter saw Trinity Christian outscore MMCRU 24-to-11 for the 64-36 lead.
It became a matter of too late in the fourth period, despite MMCRU outscoring Trinity Christian 11-to-4. Steffen also fouled out, ending his night with 14 points, five rebounds, two assists, and two steals.
Cade Pepper added 13 points, but the long long shooter was equalized by Trinity Christian without any other Royal exhibiting the potential to score in the second half.
MMCRU got dominated on the glass, finishing a minus - 27 (16-to-43). Astidias led MMCRU with six rebounds. Finishing with a game-high 15 rebounds was the Tigers' Torrey Heynen.
Heynen secured himself a double-double by adding 14 points. Teammate Thomas Brummel finished with a game-best 20, and Jerron Van Egdorn chipped in with 10.
The loss is the Royals seventh in last eight games, leaving the team with a 2-11 record overall. Trinity Christian improves to 5-8 overall.
MMCRU wraps up its week with a home game (Remsen) against Kingsley-Pierson on Thursday and Friday the Royals look to complete the regular season sweep of Akron-Westfield on the Westerners home floor.
MMCRU 13-25-36-47
Trinity Christian 23-39-63-67
MMCRU (47)
Cade Pepper 5-9 1-2 13, Keegan Stevens 2-4 0-0 5, Preston Astidias 1-2 3-4 6, Kamden Steffen 3-7 8-9 14, Derrick Goth 2-9 2-2 7, KC Nicks 1-3 0-0 2, Brett Staab 0-0 0-0 0, Eban Hicks 0-0 0-0 0, Jared Krug 0-0 0-0 0, Andrew Barinsky 0-0 0-0 0, Brayden Dirks 0-0 0-2 0. Totals: 14-34 14-19 47.
3-point goals: MMCRU 5-17 (Pepper 2-6, Astidias 1-1, Stevens 1-2, Goth 1-7, Nicks 0-1), Trinity Christian 7-19. Rebounds: MMCRU 16 (Astidias 6, Steffen 5), Trinity Christian 43. Assists: MMCRU 4 (Steffen 2), Trinity Christian 14. Steals: MMCRU 7 (Pepper 3, Steffen 2), Trinity Christian 9. Blocks: MMCRU 1 (Nicks 1), Trinity Christian 0.