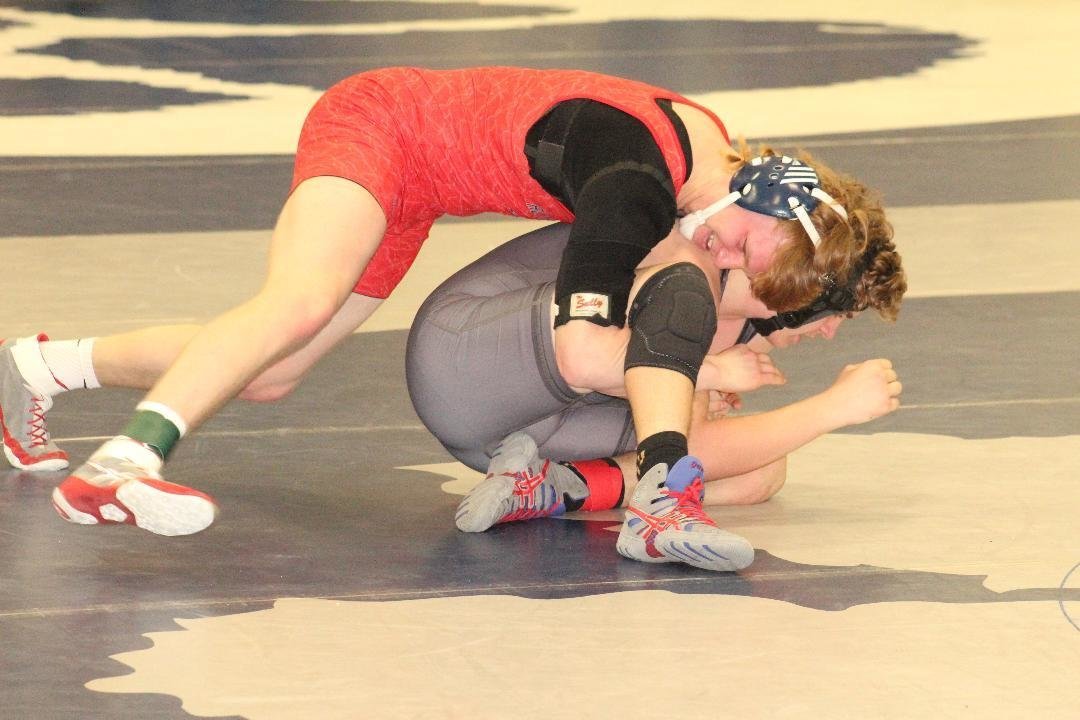 Alta-Aurelia's Levi Sleezer looks to hook a craddle on Hinton's Isaac Richter in the Class 1A sectional quarterfinal on Saturday, Feb. 8, at Woodbury Central High School. Sleezer won easily by a 15-5 major decision at 170 pounds. (Photo by Blake Stubbs, Moville Record)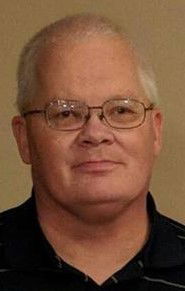 By JEFF BENSON | Cherokee County News-Patriot Sports
MOVILLE, Iowa - The Alta-Aurelia wrestling team traveled to Woodbury Central High School on Saturday, Feb. 8, for the Class 1A Sectional. The Warriors had a good showing, with six wrestlers positioning themself to wrestle for a district berth. Two advanced in Levi Sleezer at 170 pounds and Alex DeRoos at 182 pounds, with runner-up finishes.
Isaiah Powell, Tytanm Kolpin, Brandon Mier, and Zach Erpelding all wound up with third place finishes. Powell at 113 pounds ends his season with a 23-22 match record. Kolpin at 126 pounds finishes 17-20. Mier finishes 31-15, and Erpelding concludes his season with a 14-9 record.
Both Sleezer (28-11) and DeRoos (29-7) will wrestle on Saturday, Feb. 15 at MVAOCOU in the district tournament with hopes of earning state tournament berths.
As a team, Alta-Aurelia finished fourth with 134 points. Sectional champion was Woodbury Central with 217 points. Runner-up was Westwood with 186 total points.
Final 1A Sectional Team Standings
1. Woodbury Central 217
2. Westwood 186
3. South Central Calhoun 162
4. Alta-Aurelia 134
5. Hinton 132.5
6. East Sac County 128.5
7. Akron-Westfield 106.5
8. Lawton-Bronson 50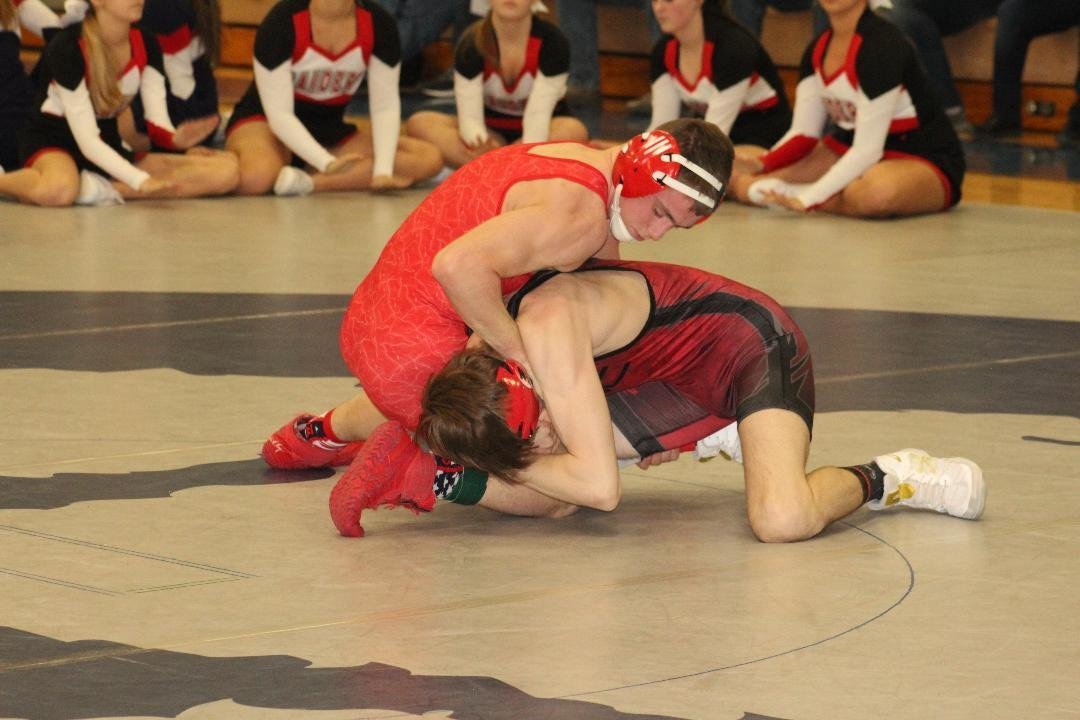 Alta-Aurelia's 120 pounder Tyler Peterson mixes it up with East Sac County's Peyton Wunschel during the Class 1A sectional quarterfinal on Saturday, Feb. 8, at Woodbury Central High School. (Photo by Blake Stubbs, Moville Record)
Alta-Aurelia Individual Matches
106
Aidan Schumacher - Fifth Place
Quarterfinal - Bryce Jurgensen (A-W) Dec. 11-5 over Aidan Schumacher (AA)
Consolation Semi - Aidan Schumacher (AA) WBFall (5:09) over Garrett Ortner (ESC)
5th Place Match - Aidan Schumacher (AA) WBFall (1:31) over Justin Rohlfing (SCC)
113
Isaiah Powers - Third Place
Quarterfinal - Isaiah Powers (AA) BYE
Semifinal - Colton Choquette (WW) WBFall (1:55) over Isaiah Powers (AA)
3rd Place Match - Isaiah Powers (AA) WBFall (3:11) over Gunnar Vohs (WC)
2nd Place Match - Colton Choquette (WW) Won ByNo Contest
120
Tyler Peterson - Fifth Place
Quarterfinal - Peyton Wunschel (ECC) Dec. 13-7 over Tyler Peterson (AA)
Consolation Semi - Tyler Peterson (AA) BYE
5th Place Match - Tyler Peterson (AA) BYE
126
Tytan Kolpin - Third Place
Quarterfinal - Tytan Kolpin (AA) BYE
Semifinal - Jayden Lahmann (WW) WBFall (4:22) over Tytan Kolpin (AA)
3rd Place Match - Tytan Kolpin (AA) WBFall (3:16) over Ryan Eli (Hinton)
2nd Place Match - Jayden Lahmann (WW) Won By No Contest
132
Schade Larson - Fourth Place
Quarterfinal - Schade Larson (AA) WBFall (1:10) over Jader Briggs (AW)
Semifinal - Nate Thomsen (ECC) TF-1 20-4 (5:41) over Schade Larson (AA)
3rd Place Match - Tristen Jessen (WC) MD 21-8 over Schade Larson (AA)
145
Kaden Stites - DNP
Quarterfinal - Max McGill (WC) WBFall (1:35) over Kaden Stites (AA)
Consolsation Semi - Brady Brown (WW) WBFall (1:40) over Kaden Stites (AA)
152
Justin Gregory - DNP
Quarterfinal - Kyle Brighton (H) WBFall (3:27) over Justin Gregory (AA)
Consolation Semi - Tanner Hall (LB) WBFall (:56) over Justin Gregory (AA)
170
Levi Sleezer - Second Place
Quarterfinal - Levi Sleezer (AA) MD 15-5 over Isaac Richter (H)
Semifinal - Levi Sleezer (AA) WBFAll (5:21) over Landon Schleisman (SCC)
1st Place Match - Sterling Rodman (ECC) WBFall (1:23) over Levi Sleezer (AA)
2nd Place Match - Levi Sleezer (AA) Won By No Contest
182
Alex DeRoos - Second Place
Quarterfinal - Alex DeRoos (AA) BYE
Semifinal - Alex DeRoos (AA) WBFall (:43) over Hunter Voith (SCC)
1st Place Match - Jackson Dewald (WW) Dec. 11-4 over Alex DeRoos (AA)
2nd Place Match - Alex DeRoos (AA) Won By No Contest
195
Brandon Mier - Third Place
Quarterfinal - Brandon Mier (AA) WBFall (:27) over Lakin Heeren (AW)
Semifinal - Derek Anderson (H) TF-1 17-2 (4:56) over Brandon Mier (AA)
3rd Place Match - Brandon Mier (AA) WBFall (:27) over Omar Hernandez-Rivera (WW)
2nd Place Match - Derek Anderson (H) Won By No Contest
220
Zach Erpelding - Third Place
Quarterfinal - Zach Erpelding (AA) WBFall (:24) over Garrett Divis (H)
Semifinal - Logan Smith (AW) WBFall (1:23) over Zach Erpelding (AA)
3rd Place Match - Zach Erpelding (AA) WBFall (1:14) over John Groetken (WC)
2nd Place Match - Logan Smith (AW) Won By No Contest over Zach Erpelding (AA)
285
Nate Weflen - Fourth Place
Quarterfinal - Nate Weflen (AA) WBFall (2:47) over Waylen Gemberling (SCC)
Semifinal - Kipp Corbin (ECC) WBFall (2:31) over Nate Weflen (AA)
3rd Place Match - Jacob Leonard (WW) WBFall (:36) over Nate Weflen (AA)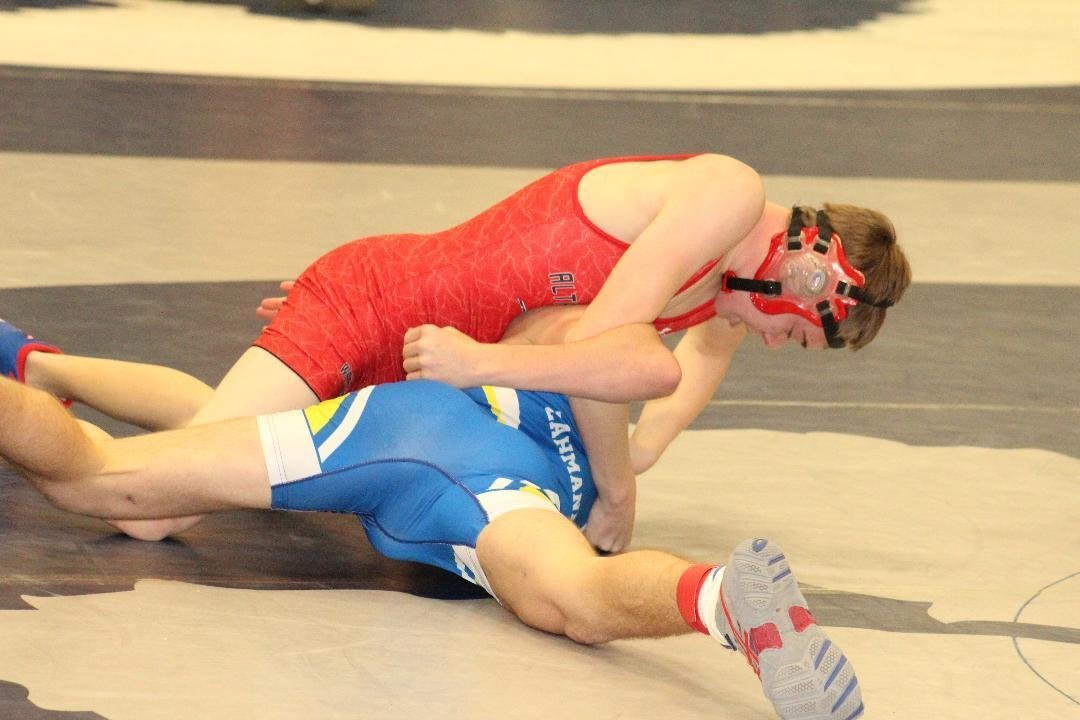 Tytan Kolpin of Alta-Aurelia locks up the arm attempting to turn Westwood's Jayden Lahmann to his back during the 126 pound quarterfinal at the Class 1A sectional tournament on Feb. 8 at Woodbury Central High School. (Photo by Blake Stubbs, Moville Record)