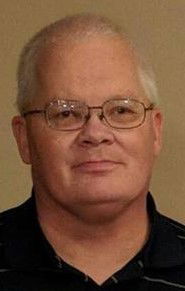 By JEFF BENSON | Cherokee News Patriot Sports
CORRECTIONVILLE, Iowa - The River Valley softball team trailed 4-3, heading to the bottom of the sixth inning Monday evening in the softball opener against Lawton-Bronson, only to plate the tying run in their at-bat.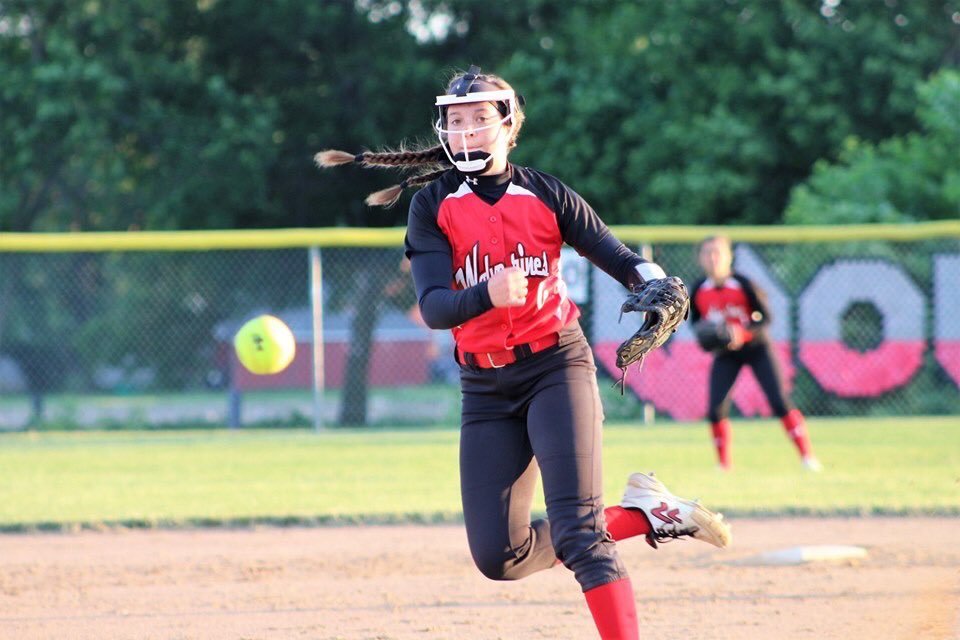 KnaackLawton-Bronson wasn't going to concede easily, as they added a run in the top of the seventh for the 5-4 lead, and three outs away to spoil the Wolverines' home opener.
It was one gutsy performance in the bottom half of the inning by River Valley who added a pair of runs to secure the victory in come from behind fashion. It marked the Wolverines second straight win dating back to last season and 13 out of the last 22 meetings between the teams.
It was a big night for Wolverine senior Taylor Knaack, both in pitching and offensively with the bat. Knaack finished a perfect 4-of-4 with a pair of runs scored, and two runs driven in. She also used her legs to swipe one of the Wolverines four bases in the game.
Pitching wise, Knaack earned the complete game victory. She threw 124 pitches, scattering five hits, walked four and struck out seven. Only three of the five Lawton-Bronson runs were earned as River Valley's defense had five errors.
The top six batters in the Wolverines' lineup each had one hit with Knaack's four a game-high.
Swift-a-foot Danika DeWitt scored a pair of Wolverine runs also and was 2-of-2 in stolen bases. Maddie Thomas had the other River Valley steal.
Extra-base hits for River Valley belonged to Brittany Meyer and Katrina Todd with doubles. Daisy Olais scotted around the base paths for a triple.
River Valley begins the season 1-0 for the fourth time in the last five season. IN 2016, 2017, and 2018, the Wolverines began their season with 2-0 records. The Wolverines will attempt to duplicate that accomplishment tonight (Tuesday) when then travel to Sioux Central (1-0), who earned a lopsided 12-2 win in five innings against Emmetsburg on Monday. The game is scheduled to be played in Peterson.
| | | | | | | | | | | | | |
| --- | --- | --- | --- | --- | --- | --- | --- | --- | --- | --- | --- | --- |
| Team | 1 | 2 | 3 | 4 | 5 | 6 | 7 | 8 | 9 | Runs | Hits | Errors |
| Lawton-Bronson | 0 | 0 | 0 | 0 | 2 | 2 | 1 | | | 5 | 5 | NA |
| River Valley | 1 | 1 | 0 | 1 | 0 | 1 | 2 | | | 6 | 10 | 5 |
| | | | | | | | | | | | | |
| | AB | H | R | RBI | | | | | | | | |
| Taylor Knaack, p | 4 | 4 | 2 | 2 | | | | | | | | |
| Kaylee Knaack, 2b | 2 | 1 | 1 | 0 | | | | | | | | |
| Brittney Meyer, ss | 2 | 1 | 0 | 1 | | | | | | | | |
| Maddie Thomas , 3b | 3 | 1 | 0 | 1 | | | | | | | | |
| Katrina Todd, cf | 3 | 1 | 0 | 0 | | | | | | | | |
| Daisy Olais, c | 2 | 1 | 0 | 0 | | | | | | | | |
| Sara Holtz, 1b | 3 | 0 | 0 | 1 | | | | | | | | |
| Addisyn Goettsch, dh | 3 | 0 | 0 | 0 | | | | | | | | |
| Klaudia Pry, rf | 0 | 0 | 0 | 0 | | | | | | | | |
| Danika DeWitt, lf | 2 | 1 | 2 | 0 | | | | | | | | |
| Izzy Deeds, cr | 0 | 0 | 1 | 0 | | | | | | | | |
| Totals | 24 | 10 | 6 | 5 | | | | | | | | |
| | | | | | | | | | | | | |
| Doubles: Meyer (1), Todd (1); Triples: Olais (1) | | | | | | | | | | | | |
| | | | | | | | | | | | | |
| River Valley | IP | H | R | ER | BB | SO | NP | | | | | |
| Taylor Knaack (Win) | 7 | 5 | 5 | 3 | 4 | 7 | 124 | | | | | |