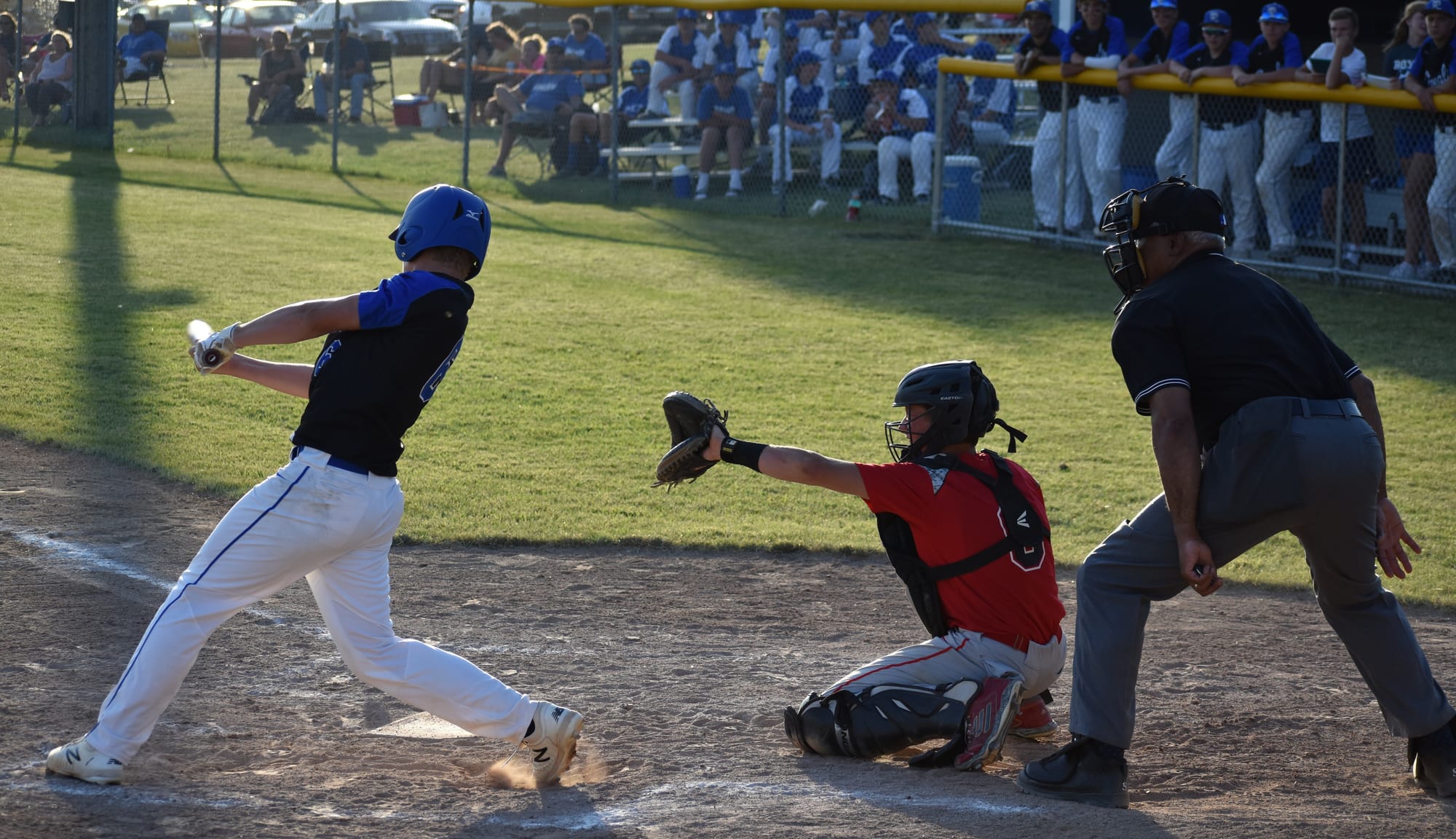 MMCRU's Carson Pick takes a healthy swing on the baseball during the Royals non-conference matchup with George-Little Rock on Tuesday in Remsen. Pic had two RBIs offensively in a 6-1 MMCRU victory. (Photo by Katie Olson)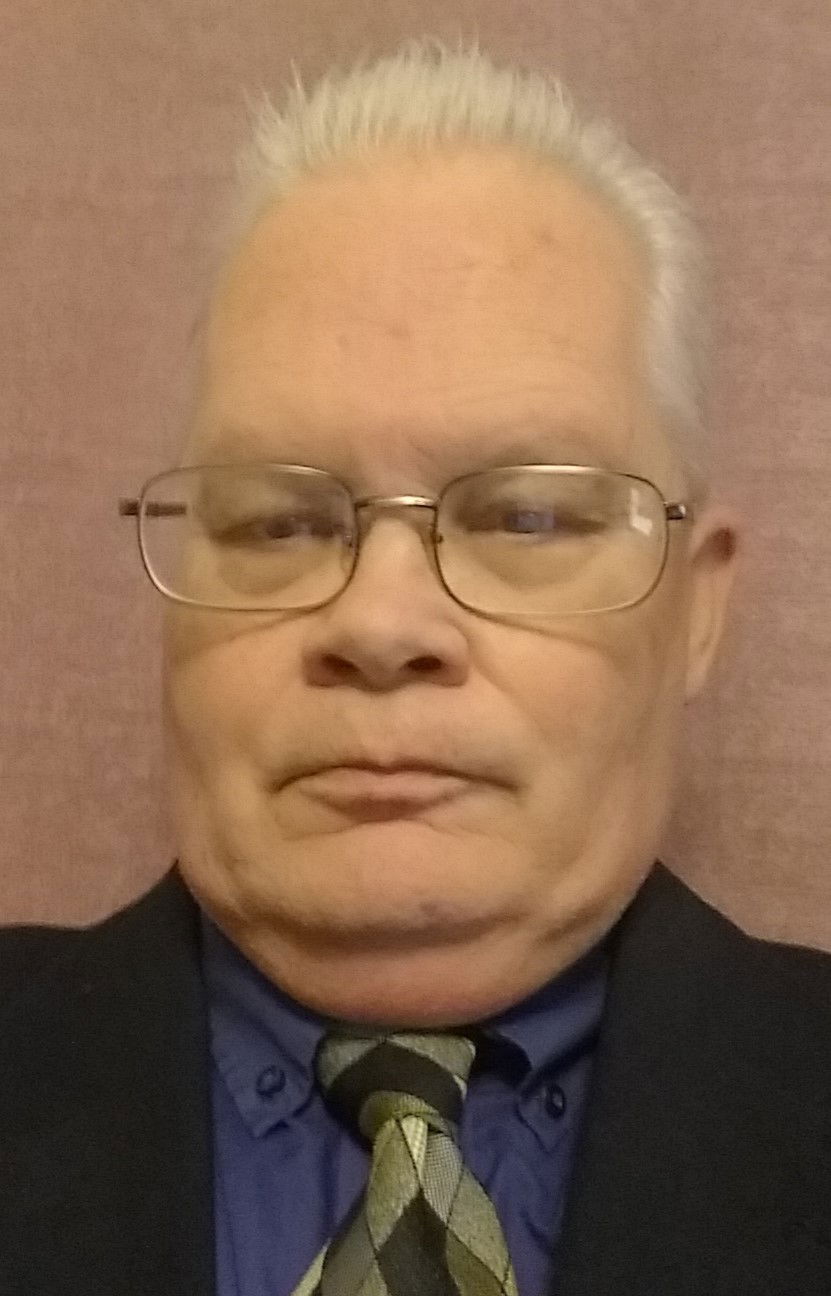 BY JEFF BENSON | Cherokee News Patriot Sports
REMSEN, Iowa - The MMCRU baseball team showed dramatic improvements in a span of 24-hours, and as a result of getting better the Royals came away with a 6-1 non-conference win over George-Little Rock (G-LR) on Tuesday.
MMCRU which was held to just one hit in Monday's loss to Akron-Westfield came away with 12 hits off George-Little Rock pitching.
That one hit on Monday belonged to sophomore Carson PIck, who as the Royals clean-up hitter finished with a single and two runs batted in against the Mustangs. He was one of eight different Royals to collect a hit off G-LR pitcher Matt Haken.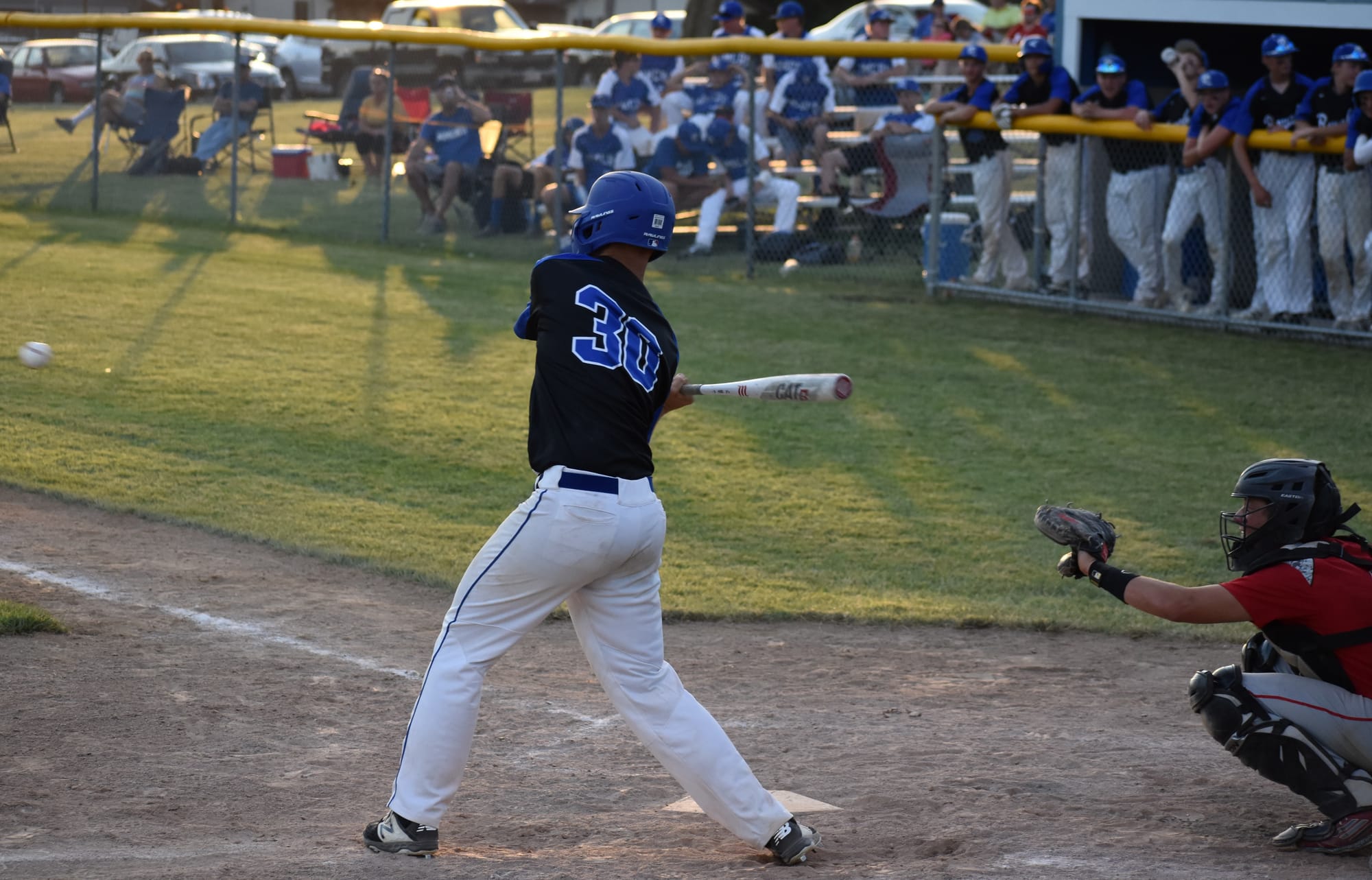 Royals sophomore catcher MIchael Rupp takes his turn at bat against George-Little Rock on Tuesday (Photo by Katie Olson)Gunnar Johnson, the Royals leadoff batter set the table perfectly , finishing 4-of-4 at the plate with a run scored and pair of stolen bases. The two-hole hitter, Cade Pepper followed with a 2-of-2 showing at the plate with two runs scored, a stolen base, and he reached twice the hard way being hit-by-a-pitch.KC NIcks also had two RBIs for MMCRU.
Carson Pick saw his first action on the mound at the varsity level and truly was spectacular, baffling Mustang hitters throughout the batting order. Carson Pick in six innings threw 105 pitches, didn't allow an earned run, walked two and struck out 10 in earning the win. Preston Astidias threw one inning of relief throwing 20 pitches to record three G-LR outs.
MMCRU broke out with three first inning runs with Johnson, Pepper and Colin PIck all reached base successfully against Haken to begin the Royals bottom half of the first inning. MMCRU added a single run in fifth for the 4-0 lead, and final two runs in the sixth.
G-LR scored its lone run in the top of the sixth inning to spoil Carson Pick's shutout bid. Johnny Schmidt scored the Mustangs lone run.
MMCRU is 8-0 all-time versus George-Little Rock dating back to 2009, including wins separately as then MMC and R-U.
MMCRU began the 2019 season 0-3 and with the G-LR win is 1-1 on the season. G-LR falls to 0-2.
The Royals return to action on Wednesday hosting South O'Brien in Marcus, and they travel to Hinton on Thursday to wrap up the first week of the young season.
| | | | | | | | | | | |
| --- | --- | --- | --- | --- | --- | --- | --- | --- | --- | --- |
| Team | 1 | 2 | 3 | 4 | 5 | 6 | 7 | Runs | Hits | Errors |
| George-Little Rock | 0 | 0 | 0 | 0 | 0 | 1 | 0 | 1 | 6 | 2 |
| MMCRU | 3 | 0 | 0 | 0 | 1 | 2 | x | 6 | 12 | 2 |
| | | | | | | | | | | |
| | AB | H | R | RBI | | | | | | |
| Gunnar Johnson, lf | 4 | 4 | 1 | 0 | | | | | | |
| Cade Pepper, cf | 2 | 2 | 2 | 0 | | | | | | |
| Colin Pick, 2b | 3 | 1 | 1 | 0 | | | | | | |
| Carson Pick, p | 4 | 1 | 0 | 2 | | | | | | |
| KC Nicks, ss | 2 | 1 | 0 | 2 | | | | | | |
| K.C. Nicks, ss | 0 | 0 | 0 | 0 | | | | | | |
| Brett Staab, 1b | 3 | 1 | 0 | 0 | | | | | | |
| Michael Rupp, c | 2 | 0 | 0 | 0 | | | | | | |
| Eban Hicks, 3b | 2 | 0 | 1 | 0 | | | | | | |
| Preston Astidias, rf | 3 | 1 | 0 | 0 | | | | | | |
| Jonah Petersen, ph | 1 | 1 | 1 | 0 | | | | | | |
| Derrick Goth, of | 0 | 0 | 0 | 0 | | | | | | |
| Totals | 26 | 12 | 6 | 4 | | | | | | |
| | | | | | | | | | | |
| MMCRU | IP | H | R | ER | BB | SO | NP | | | |
| Carson Pick (Win) | 6 | 5 | 1 | 0 | 2 | 10 | 105 | | | |
| Preston Astidias | 1 | 0 | 0 | 0 | 2 | 0 | 20 | | | |