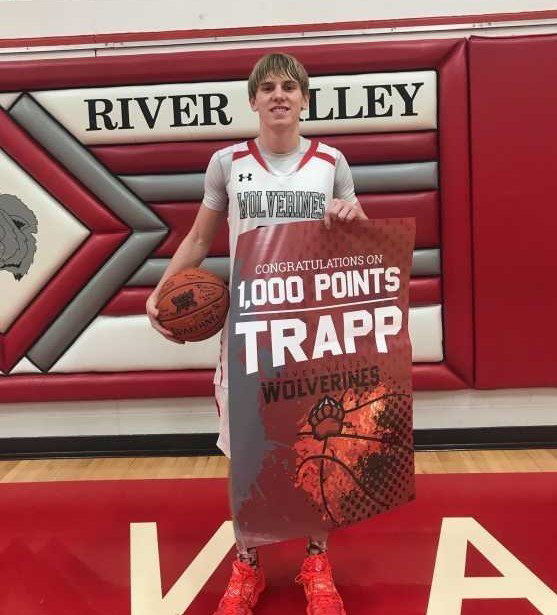 Garrett Trapp holds the Career Point Banner for the milestone he achieved Feb.11 during a two-point (60-58) non-conference home loss to West Harrison. (Photo Submitted)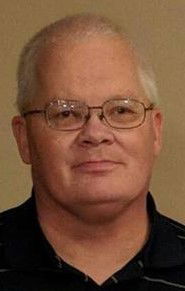 By JEFF BENSON | Cherokee County News-Patriot Sports
CORRECTIONVILLE, Iowa - The River Valley faithful came out hoping to see a personal milestone achieved.
After all, it's not all that common that a player at this level reaches such a milestone. But junior Garrett Trapp didn't disappoint the fans as he finished with a game-high 29 points - surpassing 1,000 for his prep career.
Trapp enetered the season needing 390 points to achieve 1,000 and with the 29 points against West Harrison now sits at 1,021 and counting.
Trailing by 13 points (26-13) after one quarter, Over the next 16 minutes River Valley began pecking away at the dficit and cut it to just three point 47-44 at the end of the third period. Unfortunately, West Harrison wasn't denied the victory as they pulled off a 60-58 stunner against the Wolverines.
Defesively, River Valley managed to hold West Harrison's leading scorer Nick Rife below his season average for points, as the senior finished with 10.
But on this night for the Hawkeyes, the offensive spotlight shined on freshman Mason King, a 5-foot-7 dashing, slashing and long range shooting guard, who finished with a team-high 26 points - well above his season average of seven points. King was a perfect 6-of-6 beyond the three-point arc in the contest.
River Valley shot 43 percent (20-of-46) for the game and was 13-of-15 (87%) on foul shots.
Tyler Towne came through with 18 points on 7-of-10 shooting from the floor for River Valley and converted 4-of-5 free throws. Towne also made his mark is other areas as well. He finished with a team-high sixrebounds, and added three assists and three steals.
West Harrison between 39 and 40 percent a game, shot lights out. The Hawkeyes finished at 69 percent (22-of-32), including 8-of-9 from beyond the arc.
For West Harrison they've won back-to-back games for the third time this season and stand 10-11 on the year.
River Valley (13-7) will ends the regular season on Friday with a non-conference venture at Alta-Aurelia.
West Harrison 26-36-47-60
River Valley 13-29-44-58
RIVER VALLEY (58)
Starters: Beau Miller 1-3 0-0 3, Tristan Mammen 1-4 0-0 2, Tyler Towne 7-10 4-5 18, Colton Johnson 1-4 2-2 5, Garrett Trapp 10-21 6-6 29.
Subs: Devin Todd 0-1 0-0 0, Trevor Towne 0-2 1-2 1, Ayustin Holtz 0-1 0-0 0.
River Valley Individual Leaders
Rebounds – Ty. Towne 6, Trapp 4
Assists – Ty. Towne 3, Trapp 3, Johnson 3
Steals – Trapp 4, Ty. Towne 3
Blocks – None
| | | |
| --- | --- | --- |
| | River Valley | West Harrison |
| 2PT Field Goals Made-Attempted | 15-37 | 14-23 |
| 2 PT Field Goal Percentage % | 40.50% | 60.90% |
| 3PT Field Goals Made-Attempted | 5-9 | 8-9 |
| 3PT Field Goal Percentage % | 55.50% | 88.90% |
| Overall Shooting Percentage % | 43.50% | 68.80% |
| Free Throws Made-Attempted | 13-15 | 8-12 |
| Free Throw Percentage % | 86.70% | 66.70% |
| | | |
| Offensive Rebounds | 5 | 2 |
| Refensive Rebounds | 9 | 25 |
| Total Rebounds | 14 | 27 |
| | | |
| Assists | 10 | 16 |
| Steals | 9 | 14-23 |
| Blocked Shots | 0 | 3 |
| Turnovers | 8 | 16 |
| Personal Fouls | 10 | 17 |