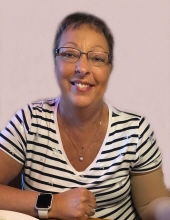 Debra K. Hattermann, age 59, of Paullina, passed away on Monday, April 27, 2020 at MercyOne Primghar Medical Center.
Debra Kay Hattermann, the daughter of Jack and Karen (Tesch) Cooper was born on October 3, 1960. She attended and graduated from Sutherland High School in 1979. On October 20, 1990, she was united in marriage to Todd Hattermann at Zion Lutheran Church in Paullina. They lived on a farm near Germantown from 1986 to 2002, when they then moved to Paullina and have resided there since. Deb passed away on Monday, April 27, 2020 at MercyOne Primghar Medical Center reaching the age of 59 years, 6 months and 24 days.
Deb was a member of Zion Lutheran Church in Paullina. While on the farm Deb enjoyed all of her pets. She loved spending time with her family and friends. During the summer she spent her time at Lake Okoboji. She also enjoyed camping, going for walks, motorcycle rides, Halloween and going to the Clay County fair every year. She fought a very courageous battle with cancer for over eight years. People knew Deb never to complain and she always had a beautiful smile on her face.
Left to cherish her memory are her husband, Todd; daughter, Kayla and her husband, Robby Haggin of Kingsley; two grandchildren, Kenna and Levi Haggin; sister, Brenda Harmdierks of Cherokee; brother, Brian and his wife, Danette Cooper of Marysville, Ohio; brother-in-law, Darin Hattermann of Paullina; many nieces, nephews and friends.
Deb was preceded in death by her parents, Jack and Karen Cooper; brother, Mark Cooper and father and mother-in-law, Edward and Norma Hattermann.
Graveside service for Deb Hattermann, were held on Friday, May 1 at Prairie View Cemetery in Paullina with Rev. Lynn Dau officiating.
In lieu of flowers, the family wishes memorials to be directed to the family for a honorarium of their choice.
Arrangements are under the care of the Eldridge Family Funeral Home in Paullina.