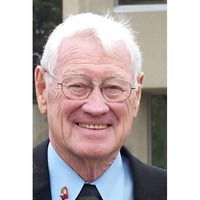 Earl F. Pickens, 85, of Fort Dodge, formerly of Cherokee, passed away Monday afternoon, May 11, 2020 at his residence in Fort Dodge.
Earl Franklin Pickens was born on October 28, 1934 in Davis City, to Robert John and Audrey Irene (Cox) Pickens. Earl moved to Mount Ayr, attending grade school and graduating from high school in 1953 where he excelled in football and basketball. He worked part-time at the Mount Ayr Hy-Vee starting in 1951.
On May 30, 1954, Earl married his high school sweetheart, Donna Marie Liles, and they made their first home in Ames where he had worked since 1953 and gained experience in the grocery and produce departments. In 1958, he transferred to Fort Madison as assistant manager and in 1959, he joined the management ranks at the Bedford store. Earl became manager of the first Des Moines Hy-Vee store in 1961, moving over to Des Moines #2 as manager in 1963.
The family relocated to Chariton in 1968 when Earl was chosen to serve as a District Manager. In 1969, when Hy-Vee purchased the Swanson chain of grocery stores in northwest Iowa, Earl was named to oversee the new Cherokee Division as District Manager. In 1974, Earl was elected Vice President of the Cherokee Division. He was promoted to Senior Vice President in 1989 and filled that role until his retirement in 1994. Earl had 42 years of service with the company and established an outstanding track record in the Cherokee division.
Earl and Donna retired to Rio Verde, AZ and after several years moved to Las Vegas, Nevada. They spent most of the year in their homes in warmer climates, but always came back to their lake home at Twin Lakes for the summer and their home in Cherokee for the big Pickens Christmas.
After Donna's passing in 2001, Earl became involved as "Grandpa Earl" at the preschool at Trinity United Methodist Church in Las Vegas. He loved spending time with the little ones and it helped him get through his heartbreak.
On May 7, 2005, Earl married Edith Louise London and they made their home in Las Vegas until they moved to Friendship Haven in Fort Dodge in 2012.
Earl enjoyed watching his kids and grandkids participate in sports, spending time on Twin Lakes, taking his entire family on vacation together, boating, traveling, watching his great grandson and great granddaughter play football and basketball as Northwestern College Red Raiders, watching crime shows on TV and watching the Minnesota Twins, Minnesota Vikings, Iowa State Cyclones and Iowa Hawkeyes on TV. In his last few years, Earl enjoyed spending lunch and dinner at Applebee's in Fort Dodge where they treated him like family.
Earl is survived by his children: Ann (Dwane) Ziskovsky of Swisher; Rodney Liles of Cherokee; Robert (Claudia) Pickens of Vermillion, SD; Richard Liles of Rockford, IL; Michelle (Gary) Eidem of Vermillion, SD; grandchildren: Steven (Kari) Jones of Twin Lakes; Jason (Jordan) Jones of Manson; Aaron Jones of Fort Dodge; Katie (Brandon) Dawson of Des Moines; Tony (Christy) Ziskovsky of Bettendorf; Darren (Alicia) Ziskovsky of Bowling Green, OH; Andrew (Katie) Eidem of Vermillion, SD; Courtney (Scott) Rentschler of Burbank, SD; Kayla (Drew) Willis of Rockford, IL; and Taylor Liles of Rockford, IL; and his Great-grandchildren: Victoria, Tyler, Maddie, Lincoln, Ryleigh and Cienna Jones; Nathan, Lucas and Ellie Ziskovsky; Finley Eidem; Scarlett Rentschler; and Dawson Willis with two new great-grandbabies due within the next month.
Earl is also survived by his sister, Karon Lee (Pickens) Graham; sisters-in-law, Karen "Sue" Liles and Sharon Pickens; and many nieces and nephews who all will greatly miss Uncle Earl.
Earl was preceded in death by his wives: Donna Marie (Liles) and Edith Louise (London); his daughters, Candace Sue Pickens and Barbara Jo Jones; his son-in-law, Steven Michael Jones; his parents, Robert and Audrey; and his sisters, Veta Swanson, Peg Evans; and his brother, Kenneth Pickens.
A private family graveside service will be held at Oak Hill Cemetery in Cherokee. A public Celebration of Life will be held at a later date. Boothby Funeral Home of Cherokee, is in charge of the arrangements. Online condolences may be left at www.boothbyfuneral.com.
In lieu of flowers, memorials may be left to the discretion of the family.