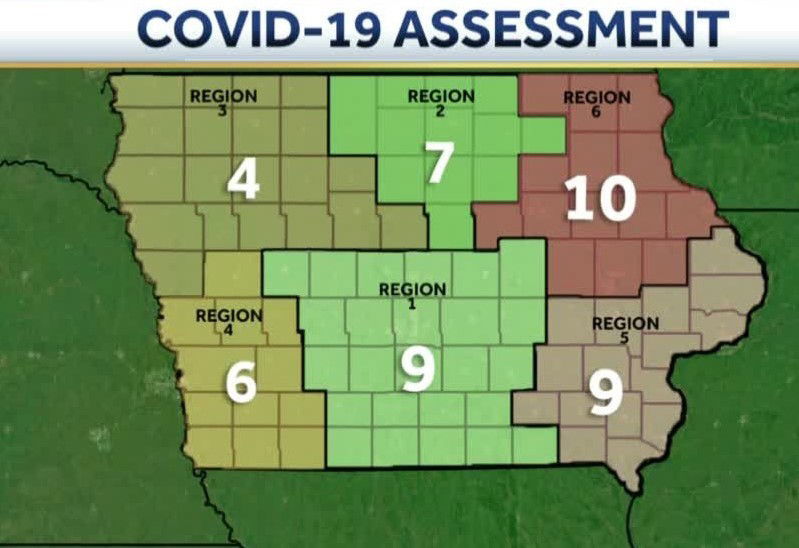 DES MOINES, Iowa — On Tuesday, the Iowa Department of Public Health released new statistics on COVID-19 in Iowa. IDPH officials reported 508 new positive cases of COVID-19 and nine additional deaths in the state.
The statewide total has climbed to 6,376 positive cases and 136 total deaths.
The deaths were reported in Black Hawk, Bremer, Dubuque, Polk, Poweshiek and Washington counties.
There are now 23 long-term care facilities reporting COVID-19 outbreaks in the state, up from 16 reported on Monday.
The new outbreaks are at Granger Nursing Center in Dallas County, Dubuque Specialty Care in Dubuque County, Park Centre and Acura Health Care of Newton – West in Jasper County, Iowa Veterans Home in Marshall County, Fleur Heights Center for Wellness & Rehab and University Park Nursing and Rehabilitation in Polk County.
The IDPH reports 304 patients hospitalized with the virus, while 22 patients have been admitted in the last 24 hours. There are 98 patients in intensive care and 64 patients on ventilators.
IDPH reports 39,823 Iowans have been tested and 2,164 have recovered from the virus.
IDPH reports 4,034 inpatient beds available, with 554 ICU beds available. There are 698 ventilators available in the state.
Iowa's RMCC Regional assessments remain static, with Regions 1, 5 and 6 still scored at a 9. Region 4 is scored at a 6, while Regions 2 and 3 are scored at a 5.
The IDPH releases complete information on COVID-19 in Iowa each day on this website.