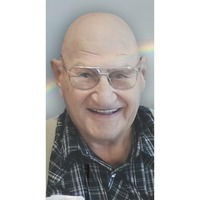 KENNETH H. "KENNY" BERN, 92, of Cherokee passed away Tuesday morning, March 24, 2020 at Unity Point Health-St. Luke's Hospital in Sioux City.
Kenny was born on May 29, 1927 to George and Dora (Selk) Bern in Cherokee, Iowa. He graduated from Larrabee High School in 1944. After high school, Kenny was drafted to the U.S. Navy and is a World War II veteran. He served in the Pacific Theater Assigned to the destroyer U.S.S. Swanson and served two years. When he returned from the military in 1947, he worked for the HyGrade Packing Plant in Storm Lake, Iowa, working there for 34 years. He was united in marriage to Olga Benson on January 29, 1949 in Sioux City, Iowa. Following retirement, he was the writer for the handicap sheet called the Gray Capper for the dog races at Bluff's Run in Council Bluffs.
Kenny was an avid bowler in his younger years. In 1967, he competed in Miami, Florida in the Bowler's Journal open division and finished National runner-Up. The following year he competed in Cincinnati, Ohio and was the National Champion. He had a scratch score of 1,194 pins, which stood as a national record for four years. He was the most notable bowler in Iowa in the 1960s rolling 7 perfect 300 games. In 1985, he was inducted into the Sioux City Bowling Association Hall of Fame and he was also inducted into the Iowa Bowling Association Hall of Fame in 2017.
Kenny attended his first Iowa boy's state basketball tournament in 1943 at Old Drake Field House. He missed 1944 and 1945 but following those years, he attended for 73 consecutive years from 1946-2019. Kenny attended the Iowa state football semifinals and finals from 1972-1976. In 1976, when the UNI Dome in Cedar Falls opened, he was in the stands every year from 1976-2018. He enjoyed attending the Major League Baseball Spring training games in Florida for over 30 straight years with his best friend, Bob Hoffman. Kenny was also a familiar face at numerous state baseball, track, and bowling events.
He received many accolades over the years but most recently, Kenny was the 2008 Cherokee Braves Wrestling Fan of the year, 2009 Tomahawk Relays Honorary Referee and was voted the Iowa High School Athletic Association Fan of the Year in 2011, and had the Cherokee Braves baseball field named after him in June of 2019. His passion for his community and the people in it was unmatched. He was always good for an encouraging word and a hug for all the athletes and kids at the games. Kenny never met a stranger and made friends wherever he went.
He was preceded in death by his parents, the love of his life Olga of 59 years, his sister Marion Lewis, brothers- in-law, John, Carl, Walter, Vernon "Pete", Robert, and Harold "Butch" Benson, sisters-in-law Mary Franchs, Norma Hanson, and Dorothy Griffin (William "Bill") Griffin, Gladys Benson, Delores Benson, Joan Benson, Deloris Benson, and LaVerne Magnussen.
He is survived by his sister in law- Connie Benson of Cherokee, many nieces, nephews, and cousins.
Funeral services will be held on Monday, May 11, 2020, at 1:30 p.m. at the Little Sioux Event Center, 201 Linden St. Cherokee, Iowa. Burial will be in the Oak Hill Cemetery at Cherokee, Iowa with military rites by L.A. Wescott Post #2253 of the V.F.W. and the Cherokee American Legion.
Public visitation will be held on Saturday, May 9th from 10 AM until 6 PM and on Sunday, May 10th from 1 PM. until 5 PM at the Boothby Funeral Home in Cherokee. During the visitation only 10 people at a time will be allowed in the funeral home and please practice social distancing. The family will not be present for the visitation.
The Boothby Funeral Home in Cherokee, Iowa is in charge of the arrangements. Online condolences can be left at www.boothbyfuneral.com
Services will be streamed live through this link by Fuller Digital Solutions https://youtu.be/5BcrZM0n9lI