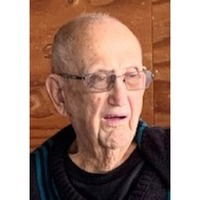 Lester P. Webb, 98, of Cherokee, passed away Wednesday evening, June 24, 2020 at his residence.
Lester was born on December 21, 1921 on a farm southwest of Primghar, to Ward and Marie (Klink) Webb. He graduated from Primghar High School in 1940. He was married to Ruby Jenness on February 14, 1948 at Quimby. Over the years he had lived in Primghar, Paullina, Gaza and Cherokee.
Lester had farmed for nine years and then sold life insurance for seven years. In 1965 he moved to Cherokee and went to work for Wilson Foods. He worked there for a little over 21 years, retiring in 1987. Following retirement he drove the Siouxland Regional Transit Bus for nine years.
Lester was a member of the St. Paul's United Methodist Church. He was a 50 year member of the Masonic Lodge and was the Worshipful Master in 1947. He was also a 50 year member of the Order of Eastern Star.
Here is a quote from Lester: "I liked fishing, hunting, playing cards, bowling, and VISITING with family and friends …well anyone." He especially liked spending time with his grandchildren and his dogs. On Father's Day he had just turned 98 ½ years old. He was very proud of that.
He was preceded in death by his parents, his wife of 62 years Ruby on March 6, 2010, his brother Bill (Rita) Webb, a sister L. Webb, sisters-in-law and brothers-in-law: Reta (August) Fuhrman, Oliver (Marcella) Jenness, Erwin (Armeda) Jenness, Virgil (Evangalene) Jenness, Merritt (Velma) Jenness, Howard (Berna) Jenness, Marlin Jenness.
He is survived by his two children: Rose Marie Webb of West Des Moines, Iowa; Todd (Terri) Webb of Cherokee, Iowa; eight grandchildren: Lisa Webb-Yi, Terry Webb-Yi, John Webb-Yi, Tracy (Duane) Knowles, Kerri (Jeremy) Hogge, Mike Webb, Tanya (Justin) Mallison, Whitney Webb; 13 great grandchildren, seven great great grandchildren and two sisters-in-law: Lois Pflugard of Port Angeles, Washington; Karla Jenness of LeMars; also several nieces and nephews.
Funeral services will be held on Monday, June 29th, at 11 AM at the Boothby Funeral Home in Cherokee. Pastor Larry Ostercamp will officiate. Burial will be in the Oak Hill Cemetery at Cherokee.
Visitation will be on Sunday, June 28th from 12 Noon until 5 PM with the family present from 3-5 PM at the Boothby Funeral Home in Cherokee. Online condolences can be left at www.boothbyfuneral.com