OTTUMWA, Iowa - Ottumwa police said four young children saved their 2-year-old sister by telling authorities about abuse going on in their home. Ashley Lindley-Moser, 28, and her boyfriend Donald Graham are both charged with felony child endangerment causing bodily injury. Court records show Graham physically assaulted a 2-year-old with "unreasonable force" and "cruelty."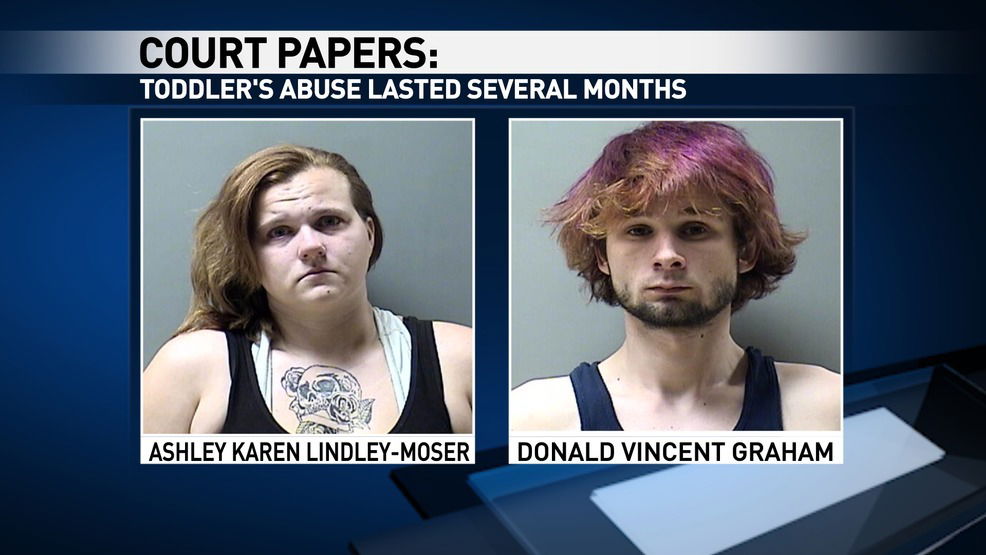 The charges stem from a weekend investigation into the abuse of a 2-year-old girl.
Pictures posted on social media earlier this week once showed the child suffering from apparent injuries to her head and body. The pictures have since been removed from Facebook.
"They're horrible, the pictures speak for themselves," said Ottumwa Police Lt. Jason Bell. "I can't imagine the abuse the child had to go through to sustain the bruising."
Court records listed Graham as her guardian at the time.
Lindley-Moser, who is listed as the child's mother, is accused of being an accessory to the crime.
Over the course of several months, police say Lindley-Moser allowed Graham to look after her children, even after he displayed violent tendencies.
Lindley-Moser admitted to authorities that she knew Graham had repeatedly beaten her 2-year-old daughter, and still allowed them to live under the same roof.
The couple made their first court appearance Thursday. Lindley-Moser has pleaded not guilty to the crime, and each defendant has waived their right to a preliminary hearing.
Graham remains in custody on a $5,000 bond.
Lindley-Moser is free on bond.
Bell did say the child is now safe, as are other children within the household. Arrangements were made for the children to stay with relatives.