SIOUX RAPIDS, Iowa - The Sioux Rapids Police Chief, Tim Porter, is facing backlash having created a firestorm over social media post made earlier this week.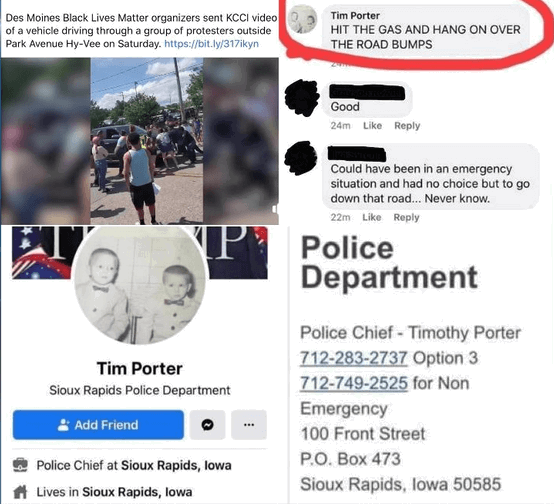 The post in question was in response to the image of a pickup attempting to drive through a crowd of protesters over the weekend in the parking lot of a Des Moines supermarket. The post read, "HIT THE GAS AND HANG ON OVER THE SPEED BUMPS."
KCCI-TV in Des Moines reports Chief Porter issued a statement of apology Tuesday saying "I have a huge apology to all that saw my Facebook page yesterday of myself making a comment about running over a person in the street holding a USA sign".
Porter's apology says he was working on another post when the incendiary remark "accidentally posted on the wrong post."
The Des Moines Register says Sioux Rapids elected officials released a statement Tuesday afternoon saying "an incident involving social media by a member of the police was being investigated and any and all disciplinary action deemed necessary would be taken". The statement went on to say, "Public trust and accountability are the foundations of policing. When an officer violates that trust, it is our responsibility to ensure that it does not occur again. We are committed to running a police department that respects the rights of every officer and every citizen and guest of our community."