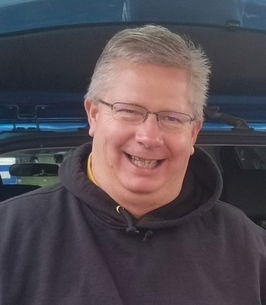 Trent D. Stowater, 54, of Marcus, passed away unexpectedly on Wednesday, April 29, 2020 at Unity Point Health in Sioux City.
Trent David Stowater was born on February 11, 1966 in Le Mars, one of four sons born to Darrell and Shirley (Stanley) Stowater. Trent graduated from Marcus High School in 1984. He furthered his education at the University of Iowa where he earned a business finance degree in 1988 and a Masters of Business Administration in 1990 from the University of South Dakota.
Following his college years, Trent returned to Marcus where he began farming and feeding cattle with his father. When his father passed away in 2012, Trent took over the operation. He was also a partner with his brother, Troy, operating Diamond 6 Feeders in West Point, Nebraska.
An avid sports fan, Trent followed local high school sports along with the Iowa Hawkeyes. He enjoyed attending Eric and Craig Brown's sporting activities as they were growing up. When there was time you could find Trent playing a round of golf. He was very social by nature and everyone Trent met received a nickname.
Grateful to have shared his life is his special friend, Lisa Brown of Hinton, and her sons, Eric of Hinton, and Craig Brown and his wife, Amy of Mishawaka, IN; three brothers and their wives, Tyler and Joni of Brandon, SD, Todd and Elizabeth of Algona and Troy and Londa of Wayne, NE; nieces and nephews, Jodi Goodrich and her husband, Brent, Ashley Shubkagel and her husband, Eric, Brooke, Taylor and Kennedy Stowater, McKenzie Otterberg and her husband Jason, McCord Stowater and his fiancé Nicole Bartling, Jay and Laura Stowater; great-nieces and nephews, Brock, Grace, Avery and Cash Goodrich, Haidyn and Sawyer Shubkagel, Bryson and Briar Rose Otterberg; aunts and uncles, Linda Wheeler and Sandy Stowater both of Cherokee, Elva Jean McKeely of Enid, OK, Charles Richard Stanley and Joyce Stanley both of Auburn, NE, Doris Johnson of Omaha, NE and Mark Stanley and his wife, Cindy of Colorado Springs, CO.
He was preceded in death by his parents, a nephew, Clint Wayne Stowater; and great-nephews, Liam and Noah Stowater.
A private family funeral service with a burial at Trinity Lutheran Cemetery, rural Marcus, will take place at a later date. A public visitation limited to ten people, practicing social distancing, will begin at 2 PM on Monday, May 4, at the Earnest – Johnson Funeral Home in Marcus.